The History of West Hills Greenhouses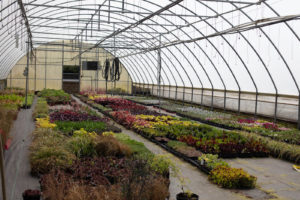 In 1929, brothers Richard, Florian (F. J.), and Oscar A. Feist started this business by erecting the first small greenhouse on this location, which was part of their father's farm.
Crops grown in the early years included cut flowers, such as Chrysanthemum, Aster, Sweet Pea, Carnation, and Snapdragon.
Oscar retired from the partnership in 1962. When Richard retired in 1966, Roger Feist bought his share of the business and became a partner with his father F. J. Feist.
Upon Florian's retirement in 1970, Roger bought the remaining share of the business. Carnations and Miniature carnations were the main crops grown, along with some succulent plants grown in the late 1970's.
During the late 1970's, foreign competition made it impossible to grow carnations profitably any longer, so the decision was made in 1978 to completely restructure the company into a propagation and spring annuals business, specializing at first in Geraniums, Ivy Geraniums, Poinsettias, and New Guinea Impatiens
Roger and Linda Feist now grow a wide selection of annuals, succulents, perennials, tropical plants, ornamental grasses, and hundreds of plants for containers, including unusual, and hard to find varieties. We now have an acre of greenhouses, plus outside growing areas. For the Fall Season, we have Pansies, ornamental Cabbage and Kale, Carex Grasses, Peppers, and frost tolerant Fall components for your planters or ground beds.
We sell to landscapers, garden centers, private estates, parks, golf courses, country clubs, municipalities, and individual gardeners. Custom growing and delivering to the needs of your landscape job, or private estate is an important part of what we do. We will work with your landscape designer, or we can help you plan your own special space.
While we do not have a garden center, we are now able to sell direct from our greenhouse (Grower's Market) to retail customers.
Open daily (Spring, Summer, Fall) 9 a.m. – 5 p.m. and Saturday's 10 am – 2 pm.
Winter hours ( November – March) are 9 am – 4 pm., Monday thru Friday.
Spring Hours resume sometime in March, depending on the weather.
Plants can be picked up at our greenhouse / nursery location, or delivery can be arranged. We are open and growing year round.
What we grow:
Annuals
Perennials
Ferns
Herbs
Tropicals
Ground-covers
Bamboo
Component